Net Price Calculator
Federal Financial Aid
Federal financial aid can come in the form of grants, federal work-study jobs, and/or student loans. In order to receive federal financial aid, students must complete and submit the Free Application for Federal Student Aid (FAFSA), which is administered by the Office of Federal Student Aid. The FAFSA opens October 1st of every year. Completing this form is absolutely critical, as it is the only way to qualify for federal financial assistance of any type.   FAFSA Overview Video
FAFSA or California Dream Act Application (CADAA)
Application Window October 1 – March 2nd (priority deadline)
Complete only 1 of the following:
Free Application for Federal Student Aid

California Dream Act Application (CADAA)

Complete if:

US citizen OR eligible non- citizen

Complete if:

non-eligible citizen OR meet AB540

(click above)

Step 1: Obtain – FSA ID for student and an FSA ID or a parent (only if the parent is a U.S. citizen or legal resident).

Step 2:  Gather documents (Tax Documents, Birthdates, Social Security Numbers, Assets, etc.)

Step 3:  Submit Free Application for Federal Student Aid (FAFSA)

Always select the application for the school year that you will be in college.

For example: Class of 2018 should select FAFSA 2018-2019 and it will be good for Fall of 2018, Spring of  2019, Summer of 2019.

Step 1:  Gather tax/income information for parent(s).

Step 2:  Submit Application at:  https://dream.csac.ca.gov/

Step 3:  Login to Your Dream Act Application & Request a Parent PIN to submit Parent Signature.

After you have submitted the CADAA you will need to log back in and select the Request Parent Signature link.

Student Support:

1-800-4FED-AID (1-800-433-3243)

Student Support:
5 Things TO DO After Filing the FAFSA
Your CADAA application will be sent to the College(s) you listed and you will want to follow up with the financial aid office at the college you plan to attend–check your college student portal TO DO list.
PVCS School Counselor, Celia Hernandez is available to assist students in applying for financial aid.  Be sure to schedule an appointment Today!
Cal Grant eligibility is determined by submitting the FAFSA/Dream Act by the March 2nd deadline and a specific GPA that is submitted by your high school.
PVCS submits ALL senior Cal Grant GPAs.
You can check the status of your Cal Grant application by logging on to WebGrants for Students and creating an account.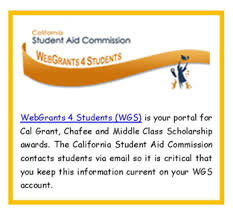 You MUST Login and CLAIM YOUR AWARD once you have committed to a school/college.
Financial Aid:
State and Federal Links
California Student Aid Commission
College Fee Waiver for Veteran Dependents
Students in Unique Situations: Tips for Completing the FAFSA